Lesson of the Easter Bunny
Rabbits can make great house pets - but don't take one on unless you're serious.
by Diane Calkins


e named her Beatrix. Our veterinarian said that "Lucky" certainly would not have been the right name for her.

Undoubtedly an Easter bunny, Beatrix was brought to the North County Animal Control shelter after her family grew bored with her. When we took her in, we fully intended to "foster" her and place her in a permanent home as we have with several other rabbits this past year.

Within minutes though, she and our big bunny Bigwig, who weighs more than most cats and was also adopted from a shelter, had created a bond. Within hours, she had met and gotten on well with everyone else (people, dogs and cats). Within a day or two, she had learned to use her litter box. The first night Bigwig, a tough old guy who'll show his displeasure if you're a little late with his nighttime banana, amazed us by letting her take a piece out of his mouth. Then they snuggled close to each other as if they'd always been together. Beatrix had obviously found her permanent home.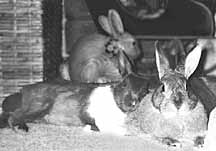 Unlucky people who have never really known a rabbit might assume that they're rather boring, meek animals with little or no personality. In reality, the opposite is the case. Beatrix was her own girl: a bit mouthy (she'd sling her toys around her cage), independent, affectionate, indignant when messed with. Being prey species, many rabbits give up when they're sick or injured. Not Beatrix - she fought a fierce but losing fight.

When she arrived she weighed only about 5 pounds, rather than the 10 or 11 a healthy New Zealand female should weigh, and she had a sore on her leg. During December, she spent 10 days being treated at one of the best veterinary hospitals in the County. Finally, though, one of her rear legs had to be removed to save her life. Within hours of surgery she scooted around, seemingly oblivious to the loss of a limb and obviously feeling much friskier with the infection gone.

Just a month later she started down hill again. We worried the infection had returned but instead found out she had cancer. Since there was no hope for a recovery, we decided not to try heroic measures. Another stay at the vet's and a shot of cortisone gave her five good days, but the next three were not good, and had to have her euthanized.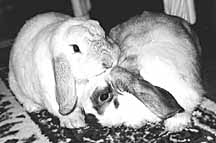 When we brought her home for the last time, we let Bigwig sniff the box she was lying in. He went straight to their cage - something he never does during the day - and sat in the corner where she'd last lain.

When she first became sick, we had been concerned that Bigwig might ignore or even hurt her. Instead, he allowed her first choice of any treats and spent each night pressed against her. When she was hospitalized, even for a night or two, he refused his banana, grunting at anyone who tried to comfort him. When they were reunited, his tail twitched from excitement.

While we've worried over her, cried our eyes swollen, tried to do the best for her, we've felt another emotion, too - outrage at the people who breed rabbits, the pet store operators who sell them, and the people who buy them and treat them like so much trash.

With Easter upon us again, the following sorry scenario will be played out all over the county. Mom or Dad buys a bunny for the kids from a pet store or a breeder, which is adored for about a day. Then, the bunny is put in the hutch or cage outside and gets fresh food (not necessarily the right food, but food nevertheless) and water for a week or so. After this, food and water is presented less consistently and attention even less frequently. Finally, the bunny dies, is relinquished to a shelter, is released to the wild, is killed by neighborhood dogs or is thrown into the ocean or dumped in a dumpster.

Bianca was an Easter bunny in 1992. That fall, she was abandoned at the South Bay Animal Shelter, probably because she'd matured sexually and was displaying adolescent behavior that her owners couldn't understand and didn't want to cope with. She was rescued by the House Rabbit Society in November 1992, the day before she was scheduled to be put to sleep. Bianca was spayed and soon found a permanent indoor home, where she still lives today with her (neutered) mate.


We're sick of picking up after these people. Why should we and others involved in rescuing rabbits (as well as cats, dogs and other homeless animals) be spending our time, energy and money to solve a problem we had absolutely nothing to do with creating? Every rabbit born negates our efforts to save an already living animal. Breeders and pet stores sell to anyone who can pay the price, while rescuers place socialized, spayed/neutered, health checked, litter box trained rabbits in well-scrutinized homes with people who sign adoption contracts.

When the time is right, we'll find another friend for Bigwig, although Beatrix cannot be replaced. And, as much as we hate it, we'll bring home more homeless animals and match them with responsible and caring people. For now, we wish the breeders/sellers/relinquishers could feel an ounce of Beatrix's ton of pain, an ounce of our ton of grief at losing her before she even saw her second Easter.

The House Rabbit Society is a national nonprofit, all-volunteer organization that is dedicated to promoting long healthy, happy lives for rabbits as indoor companion animals. The group rescues rabbits from Humane Societies and animal shelters, spays/neuters and litter box trains them and adopt them into responsible homes. They promote public awareness of rabbits as pets and provides information on health, diet and behavior to rabbit owners.

San Diego has the largest active HRS chapter in the country, with a membership of more than 500. A regular newsletter and events are among the membership benefits. For more information, call the House Rabbit Society at (619) 718-7777.

Diane Calkins is a House Rabbit Society volunteer. Copyright © 1997 by Diane Calkins. All rights reserved.