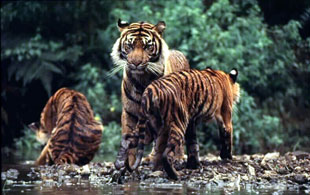 he critically endangered Sumatran tiger could the first large predator to go extinct in the 21st century if poaching and widespread illegal trade are not stopped, according to TRAFFIC and World Wildlife Fund.
Despite an international ban on trade in tiger parts, rampant poaching continues in Indonesia, finds a report released by TRAFFIC, the wildlife trade monitoring network. At least 30 Sumatran tigers were poached each year between 1998 and 2002. The total population of Sumatran tigers - found only on the Indonesian island of Sumatra - is estimated to be less than 300 tigers.
"Trade of the Sumatran Tiger," based largely on undercover work, exposes the systematic killing of a critically endangered species by professional and semiprofessional hunters. Along with a thriving international smuggling network, the report found a surprisingly large domestic market in Indonesia for tiger skins and other parts, such as bone used in traditional Chinese medicine.
"The one bright spot is that tiger populations are able to rebound if they are protected from poaching and their habitat is preserved," said Sybille Klenzendorf, head of WWF's tiger conservation program. "It's not too late for the Indonesian government to get serious about wildlife protection and save the country's last tigers."
Indonesia's efforts to address the threats to Sumatran tigers were under scrutiny at an international wildlife trade meeting in Geneva in February, being held by CITES (the Convention on International Trade in Endangered Species). WWF and TRAFFIC are urging the Indonesian government to increase antipoaching measures and to crack down on the ongoing illegal export of tiger parts from Sumatra, as well as the domestic trade.