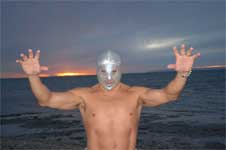 At EarthFair 2007, WiLDCOAST, a local Imperial Beach non-profit environmental organization, will set up a wrestling ring in which El Hijo del Santo Helpers will be wrestling the Ocean Depredators. Professional wrestlers from Mexico will join WiLDCOAST to impersonate El Pirata Rapaz (the depredatory pirate), El Chupacaguas (the eater of sea turtles) los Zombies, Come Huevos (the zombies that eat sea turtle eggs) y El Aguas Negras (sewage water) in a lucha libre demonstration. Here the phenomenal spectator sport of Mexican wrestling, an iconic cultural interpretation of the match of good vs. evil (tecnicos vs. rudos), will symbolize the fight for ocean survival.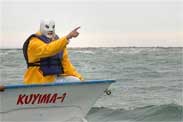 The full-sized wrestling ring will be on hand with peleas (wrestling matches) occurring throughout the day; through the spectacle we will be trying to inspire young and old to join the fight for the planet. Every one will be invited to take action and join the tecnicos in activities from writing messages to elected officials to learning more about how individuals can protect our ocean.
See the action at EarthFair in the Plaza de Panama in Balboa Park, in front of the Museum of Art.