Saving sea turtles on the Sea of Cortez
Compared to sitting in a beach chair sipping a margarita in Baja, most people might not consider working this hard much of a vacation. The author considers it the experience of a lifetime.
by Drew Searing

typical list of things-to-do on my last vacation was not very typical:
Spend night on beach guarding turtle refuge.
Rescue turtles from fishing nets.
Take blood (DNA) and skin samples from turtles.
Drain and clean turtle tanks.
Weigh and tag turtles before release.
Build new netting cover over turtle tanks.
Gather, sort, and log trash on beach.

The week I spent at Camp Archelon on the Sea of Cortez in Baja California will be a week I will treasure forever. It is rare that one is afforded the opportunity to work so closely with nature on such a rewarding and educational venture. Camp Archelon is a Sea Turtle Preservation Project run by Antonio Resendiz and his wife, with help from a non-profit organization called One World Workforce (OWW), based in Flagstaff, Arizona.


Five other volunteers from as far away as Rumania and Belgium joined me for the eleven hour drive from San Diego. The ride through Baja traverses some of the most unusual desert landscape imaginable. Dormant volcanoes which have left traces of ancient lava flows dot the sand beds that were once the bottom of the ocean. Boulders the size of houses gather in mysterious piles. Sixty feet Boojum trees - one of the 80-plus species of cacti that grow only in Baja - look like upside-down green carrots with spiky twigs protruding from all angles.


The highlight of the trip was working on the conservation project itself. Rising with the sun out of our open-air cots in primitive "palapas" (huts) we checked for scorpions before donning our footwear; then off to get briefed by Antonio. We received a jam-packed sea turtle education in half a day that students of marine biology might get in an entire semester.
Antonio is a saint. Not only has he dedicated his life to saving sea turtles but he has had to come against local fisherman who still equate the turtles with a feast akin to turkey during an American Thanksgiving.


The local village is quite primitive. There is no electrical power after 8 pm., the spring has dried up so all water must be imported, and there are no banks, no grocery stores and gladly, no hotels.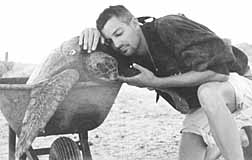 The author bonds with a loggerhead

All seven species of sea turtles are either endangered or threatened. We concentrated on the two species most common to the Bahia de Los Angeles, where the research station is located - the loggerhead turtle and the Pacific green. Larger chelonians (turtles) can weigh up to a ton and measure eight feet across. Oddly enough, it is not known how long sea turtles live. Scientists have recorded life-spans up to 175 years but there is no accurate way of aging the beautiful creatures. We may never know: shrimp nets which are not "turtle-safe" are killing off sea turtles by the thousands.


It was a play-it-by-ear atmosphere at the station. After a vegetarian breakfast, most mornings included cleaning and refilling the large turtle tanks which housed a small population of juveniles and adults. Some have been injured by sharks or fishermen and others are simply being held until they get large enough to stand a better chance of survival when released. Their diet consists of brown algae and sea hares (purple blobs of shell-less sea snails) - both of which are readily available by wading along the shore and scooping up what comes your way.


It was this very research station which released "Rosita," a 213-pound loggerhead, in July of 1994 from a beach on the Pacific side of Baja California. She turned up 16 months and 6,500 miles later off Japan's Kyushu Island. This suggests that the giant sea reptiles undertake one of the longest marine migrations on record. Indeed, they can fast for a very long time without eating and they can hold their breath underwater for more than a month! The ultimate goal of the conservation project is to release the turtles back into the sea while learning more about their migrations, life cycles, and social structure.


It was a long week. Hard work in blazing heat and 40 mph sand-filled winds. But I wouldn't have traded it in a million years for a quiet lounge by a pool off the Mediterranean. The knowledge gained and the self-worth acquired set me on a spiritual high for weeks following the trip. I walked away from the research station rewarded with a sense of accomplishment and fulfillment which I cannot describe in words.


When turtles are flipped over on their back, they are helpless. Just as it takes a caring human to turn that turtle rightside-up, it takes caring people to aid in the protection of one of this planet's most elegant yet most endangered species. If you would like to help out, I urge you to contact One World Workforce at Route 4, Box 963A, Flagstaff, AZ 86001, or call/fax them at (520) 779-3639.